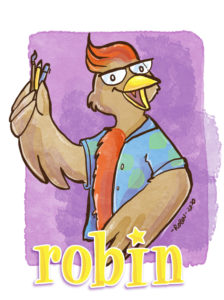 Lab tech by day – artist when they have the time, Robin is like a superhero with amazing powers (Looks good in hats! Makes cake appesr!) and a secret identity, complete with lab coat and glasses. They are a trans-masculine, non binary artist based in the wilds of Canada.
They've produced cartoons and artwork for the Official Star Wars Kids magazine, Starwars.com, Star Wars Insider, a few comics in publications by Radio Comix and sketch cards for Topps, Cryptozioic, Perna Studios and Strictly Ink. When  not drawing stuff for other people, they draw really cute stuff like polar bears. And bacteria.
In non artsy but equally awesome news, Robin loves volunteering with kids, including hosting 'How to Draw' sessions at various conventions.
Where is Robin nowadays? Still in Canada. Because Canada is awesome.
Connect with me at the following places
A brief and incomplete list of my professional/other awesome work
Wonder Woman Day 2 and 3 paintings
Artwork for the Quick Draw fundraiser for the Penticton Art Gallery 2008 and 2009
Star Wars Insider #92 'How to Draw Admiral Ackbar'
Star Wars Kids Magazine #5, #8
Scholastic Star Wars Kids Magazine #4 & #8
Starwars.com kids features including How to Draw and Maskmaking
Sketch cards for Topps, Cryptozioc, Perna Studios & Strictly Ink
A ton of independent pro illustration, graphic design & web work (Portfolio available on request)